Categories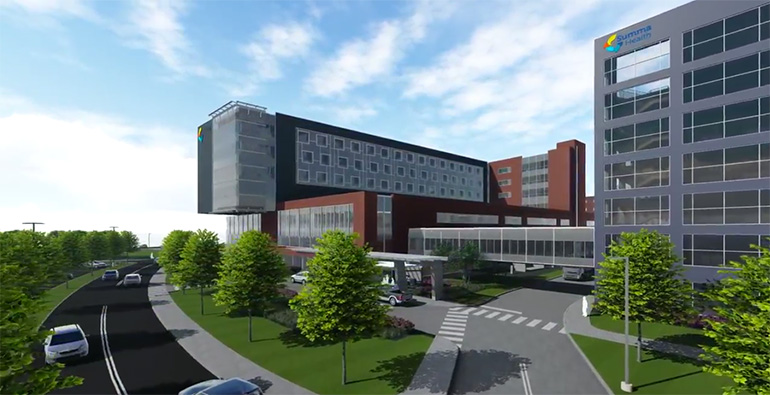 Hospital Design Architecture (Summa West Tower)
Hasenstab Architects was proud to be part of this $350 million transformational project for Summa Health. The 343,000-square-foot, seven-story hospital addition — named the Summa West Tower — will be the new "front door" to the hospital. The hospital design architecture included new facilities for Summa's Women's Health program, modern inpatient rooms and nursing units, as well as expanded surgery capacity.
The hospital design project added 72 private patient rooms, 36 private postpartum patient rooms, 11 operating rooms, 67 same-day surgery prep and recovery rooms, 17 labor and delivery rooms, 10 private antepartum patient rooms, and a multi-purpose conference center. The first floor addition allowed for expansion of the Same Day Surgery Center, which contains a state-of-the-art Da Vinci Surgical System, a robot-assisted surgery system.
Hasenstab Architects was honored to be part of the "Summa Design Team" that provided a hospital design that reflects Summa Health's commitment to providing best-in-class healthcare. The construction management team joined the design team during the early stages of planning to provide preconstruction services. They named themselves the "Summa Tower Team." The whole hospital design project was truly a remarkable case study in the power of collaboration.
The two teams developed a team charter that detailed components such as trust, respect, integrity, and transparency. Each team member signed the charter and it was used to measure the performance of the team. The entire process, from groundbreaking to completion, took only 730 days.
Our teams created a fly-through rendering video (below) to illustrate how the hospital design architecture looked during the pre-build concept phase. The entire process began in 2015 and is a great example of the value of proper planning.
If you're interested in learning more about Hasenstab Architects' hospital design architecture, please email us or contact us online.