Categories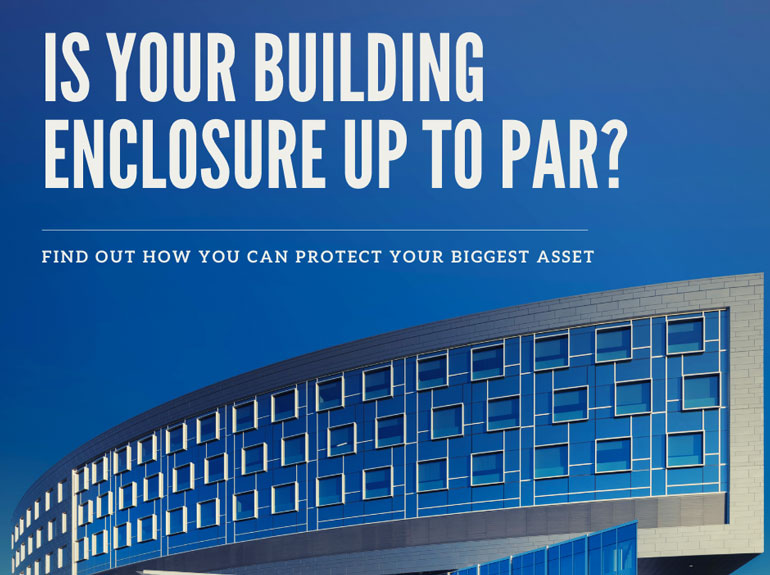 Neither Snow, Nor Rain, Nor Heat… Should Affect Your Building. Is Your Building Enclosure Up to Par?
By Tom Walker, BECxP, CxA+BE
Today's high-performance buildings require much more attention to detail than the simple brick and mortar structures of previous generations. Generally, buildings of the past were solidly designed and constructed, but they were not necessarily designed with performance or energy efficiency in mind. Today's buildings consist of many different systems that literally push (or pull) the building envelope in terms of environmental performance. Due to the great demands that we are putting on our building envelopes, Building Enclosure Commissioning (BECx) has emerged as an essential part of architecture and construction.
Building Enclosure Commissioning is a process that sets metrics for building performance regarding the building enclosure. The level of commissioning is developed in partnership with the project owner and can range from simple review and evaluations of an architect's enclosure design to very intensive pre- and post- installed systems testing, continuous installation observations, and reporting. Building use often plays an important role in determining the level of building enclosure commissioning. For instance, a simple unconditioned warehouse would not be candidate for BECx, but a hospital, museum, laboratory, aquatic center or any other facility that requires a stable indoor building environment or contains temperature and humidity sensitive materials, equipment, and patient care are prime candidates for Building Enclosure Commissioning.
Why should you consider Building Enclosure Commissioning? The reason is simple: your facility is one of your most important and expensive assets. This asset needs to be protected, and its performance needs to allow your business to operate profitably. If a building is leaking water, growing mold, or simply deteriorating over time due to moisture intrusion, the value of this asset, the profitability of your business, occupant health, and even your reputation could be damaged. By engaging a BECx agent for either a new construction project or renovation / retrofit of an existing facility, you will have the peace of mind you need to know that your investment will perform as expected and last for many years to come.
Be sure to check back over the next few weeks to learn more about various tools and methods (like the building envelope mock-up seen below) used to identify, prevent and remedy building envelope issues during design and construction, brought to you by Hasenstab Architects' Building Enclosure Team.