Categories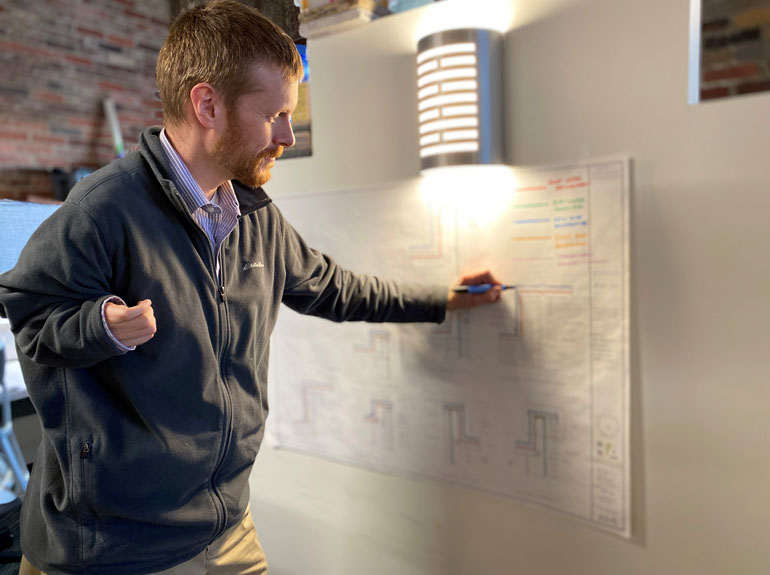 Building Envelope Design: Preventing Costly Problems During Design & Preconstruction
By Dan Gardinsky, AIA, NCARB, BECxP, CxA+BE
If you read the first part of this series (Neither Snow, Nor Rain, Nor Heat… Should Affect Your Building. Is Your Building Enclosure Up to Par?), then you now understand the importance of a well-designed building envelope and Building Enclosure Commissioning. In this installment, we'll explore several tools and methods used during design and preconstruction to identify and prevent potential problems. These tools and methods can include engaging specialty consultants, product reps and manufacturers, and utilizing design assist contractors. Procedural safeguards can also help to prevent building envelope issues.
Communication During Design
One of the best proactive tools is open and frequent communication with other design professionals and exchanging ideas about special situations. You should consider engaging specialty design consultants who can provide technical expertise in areas such as unique cladding, air and water intrusion and thermal analysis studies. Also, who better to involve in the design process than product reps and manufacturers? Input from the folks who know the most about building envelope products early on can contribute to a successful project outcome. They often have access to technical data, BIM models, CAD details, cost information, and analysis tools that can help in the decision-making process. On top of that, they can also refer you to owners of installed examples on recently constructed buildings so you can see for yourself if the products and systems hold up to the elements over time.
Contractor Preconstruction Feedback
Engaging design assist contractors, or even taking it one step further and utilizing integrated project delivery (IPD), is also an excellent way to prevent costly building envelope problems. Early on in design, the design assist contractor is invited to provide input. They can offer suggestions on constructability, real-time estimate updates and prefabrication ideas. Both the designer and the builder can identify common items, discuss each other's concerns, and ultimately strategize a plan together in a coordinated, aligned effort.
Design Document Review
Design document quality control / quality assurance (QA/QC) process safeguards, both print and electronic formats are recommended to ensure documents are technically correct and well-coordinated between disciplines. The pencil test, electronic superimposed plan overlays and old-fashioned document review with checklists can all be used to produce thorough documents. During a pencil test, a pencil (or pen/marker) is used to trace thermal, water, air and vapor control layers on architectural details. If the pencil is lifted due to a discontinuity in the barrier, then the detail needs to be revised and continuity needs to be added to the detail. Another QA/QC safeguard involves using programs such as Newforma and Bluebeam to overlay two views in contrasting colors, allowing irregularities to be discovered. Finally, the power of good, old-fashioned checklists should not be overlooked. Following a checklist allows the designer to maintain productivity and reduce the number of potential building envelope mistakes.
Whether it's engaging specialty design professionals and design-assist contractors, or utilizing QA/QC process safeguards, designers should be diligent about proper building envelope design. The cost of a little more effort during the design process will be much less than the costs of mitigating any issues that arise after construction is complete.
Stay tuned for the third and final installment of this series where we'll visit tools and methods that can be used to address building envelope issues during the construction phase.