Categories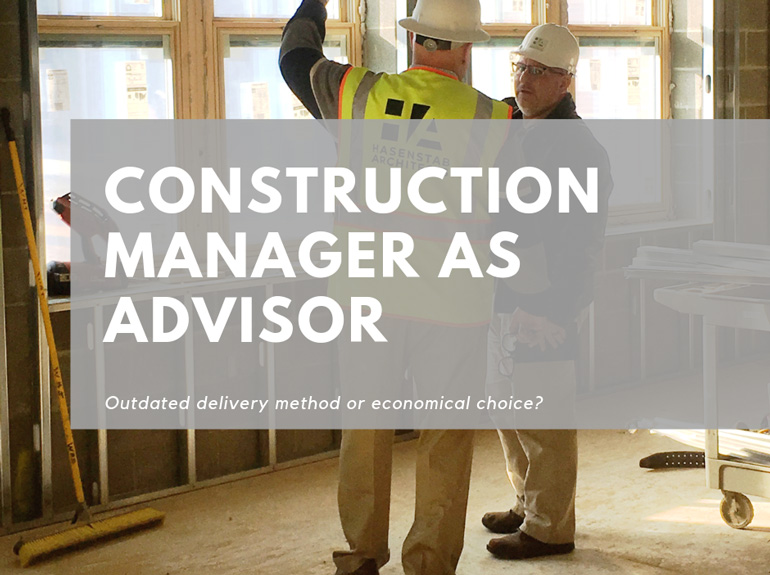 Experts Share What To Know About CMA and CMAR Project Delivery
By Dennis Check, AIA
Construction Manager as Advisor (CMA) project delivery has been losing favor in recent years, as public bidding now allows Construction Manager at Risk (CMAR) as a delivery method and as contractors have found CMAR more lucrative. CMA is a project delivery method in which the CM is brought on early in the design phase and advises the owner and architect throughout the construction process. The primary, and important, difference between this and CMAR is that the CM does not hold the contracts with the contractors and subcontractors — the owner does, similar to a traditional Design-Bid-Build (DBB) arrangement.
In general, the CMA is responsible for advising the owner on cost, constructability of the project, and schedule. The depth of this involvement during the process is variable depending on the CMA's negotiated fee, which is less than a CMAR arrangement where the CM assumes greater risk. The construction manager may provide on-site project personnel on a full-time basis during construction, again, depending on the negotiated fee. The architect may be paid additional services over the base agreement to perform this function in lieu of the CM.
The owner who chooses a CMA project delivery arrangement needs to be certain that he or she has the resources and experience necessary to manage the contracts and associated administration of the project in-house, as the CMA does not have this responsibility contractually.
Pros to CMA Project Delivery
Acceptable approach for both public and private projects
Ability of the owner to select the CMA in a qualifications-based process, with the aid of the architect
Cooperation of design and construction teams early in the design process
Lower cost to owner (than CMAR) because of less risk to CMA
Cons to CMA Project Delivery
Added cost to project over DBB, as CMA is a "fourth" part (owner, architect, contractors/subcontractors, and CMA)
Overall financial and administrative management of project still falls largely on the owner, as the CMA has no contractual relationship with the contractors
Fewer CM's are willing to enter into this arrangement, as CMR is more lucrative and affords them more control
Greater need for owner to manage the project; CM is more of an advisor
Consider this delivery system if:
You have experience with construction projects and have the resources to manage the project on a day-to-day basis
You are a private entity who can enlist known contractors to construct the project, but you desire outside oversight and advisement because of project size or complexity
You would like to have construction input during the design process, including advisement on constructability and cost, but don't want the added expense of a CMR arrangement
Construction Manager as Advisor Project Examples For an overview of other popular project delivery methods, click here. We'll be featuring another popular project delivery method soon so follow us on Facebook, Twitter and Instagram to be the first to know when new posts are published!