Categories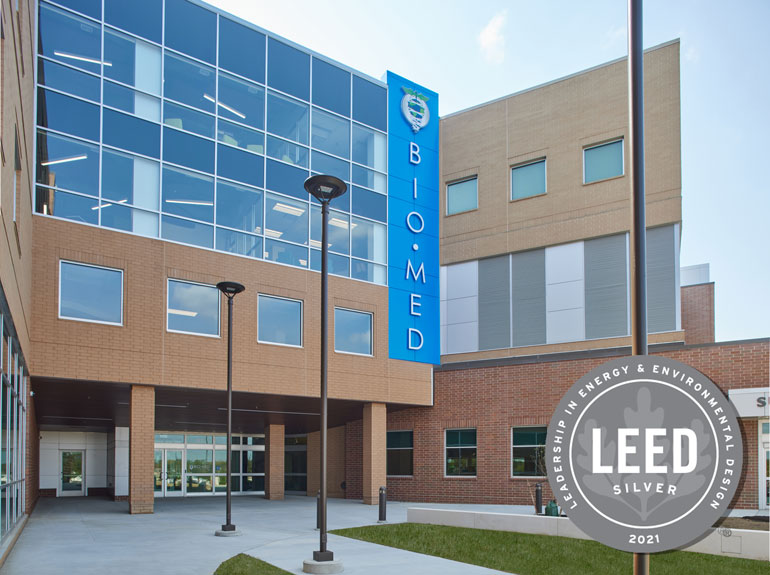 Expert insight on how to achieve sustainability in architecture
Hasenstab Architects worked with representatives from Bio-Med Science Academy and Northeast Ohio Medical University (NEOMED) to provide insight about how to achieve sustainability in architecture for their new STEM+M School Addition on the NEOMED campus.
The Bio-Med Science Academy Addition was designed and constructed with sustainability at its forefront. It has achieved LEED Silver certification by the USGBC! What's even more exciting is that it's the first LEED v4 BD+C Silver Certified school project in Ohio!
This project followed the guidelines of LEED (Leadership in Energy and Environment Design) version 4 for schools and is the first facility in Ohio to achieve LEED v4 BD+C Silver Certification! LEED v4 follows a performance based approach that "calls for measurable results through a building's life cycle". It focuses on energy and water optimization and conservation, as well as the health and wellness of the building's occupants.
The following information highlights some of the ways this building has incorporated sustainability, occupant health, as well as energy and water conservation in its design. For more information about LEED, please visit www.USGBC.org.
Location & Transportation | Reduced Parking Footprint
In order to limit carbon emissions, the number of parking spaces allocated for Bio-Med students and faculty was reduced from the allowable parking spaces set by zoning by 20%.
In addition, to encourage carpooling, designated spaces in preferred spots closest to the entrance doors were added.
Sustainable Sites | Heat Island Reduction
A coating was applied to the parking lot closest to the building addition to reduce the heat island effect asphalt is known to cause.
Heat islands occur from the thermal absorption by dark and non-reflective hardscape, which then radiates heat. These heat islands can be harmful to humans and wildlife, raising the overall temperature in surrounding areas.
The coating on the asphalt has a solar reflectance value that allows for light reflection, thus reducing thermal gain and therefore eliminating a potential heat island.
The roofs were also designed to be white with a high solar reflectance to avoid heat islands at the roof level.
Water Efficiency | Water Metering
Water should be conserved when and where possible. Building owners typically track their water use as a whole.
In order to more precisely track the water usage, and determine where consumption can be reduced, additional water meters were placed on all indoor plumbing fixtures and domestic hot water. These meters report back to the building automation system (BAS) which allows the staff to more precisely determine which systems are consuming the most water.
Energy & Atmosphere | Enhanced Commissioning
Once construction of the building addition was complete, a third party commissioning agent was hired to ensure the building performs as designed. The commissioning process included the building systems, as well as the building envelope. This information helps reassure the owner the building is functioning as expected, and highlights potential issues, which can then be remediated.
Materials & Resources | Building Products Disclosure
During the design process, special consideration was given to choosing materials that have gone through a credentialing process to highlight their life-cycle impact. Understanding how materials are extracted, manufactured, and whether or not they can be recycled has helped the project team understand the environmental impact of the specified materials. Over 40 products from several different manufacturers with known life-cycle impacts were chosen for this project. Developing a deeper understanding of the environmental impact of materials and focusing on those which are credentialed are two examples of how to achieve sustainability in architecture.
Indoor Air Quality | Low Emitting Materials
The quality of indoor air is vital to occupant health. Products such as paints, sealants, wall and ceiling materials that were chosen for this building have low to no volatile organic compounds (VOC), which means they are non-toxic, and therefore toxic chemicals are not released into the air.