Categories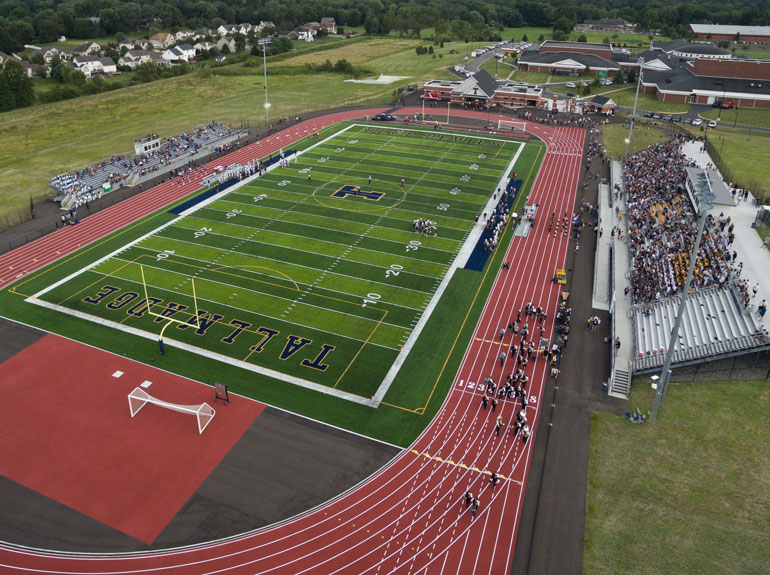 K-12 Athletic Facilities: Key Design & Planning Considerations
By Greg Chaplin, AIA, NCARB and Brandi Fry, AIA, NCARB, FCSI, CDT
Whether you are looking to update your district's soccer fields, add a concession stand, or create an entirely new sports complex, K-12 athletic facility design can be a daunting task. Where do you start? Careful planning and a well thought out process is the key to a successful athletic facility project. This is where an experienced design professional comes in handy. An architect familiar with this type of project can help you navigate planning and design challenges, including funding, site selection, phasing, community involvement and materials, that affect the success of your project. Below are a few factors that should be considered when taking on an athletic facility design project.
Funding – Public vs. Private
All projects require funding, but there is a wide range of possibilities for how the money is acquired. Public funding options include local bond issues, state and federal funding, or state and federal low interest loans. Private funding typically occurs through donations from corporations or individuals, typically through fundraising campaigns.
Whether the funding is public or private, there are restrictions to using the funds which must be considered. Private donations may request naming rights or limitations on how the funds are spent, such as on a specific sport, materials used in the construction, etc.  Naming rights tend to have more flexibility and typically are used to fund individual components of a project including field houses, stadiums, concession stands, scoreboards, etc.  Public funding may have guidelines such as design requirements or LEED certification at a certain level that must be followed.  These implications may provide less flexibility or freedom in design.  Deviating from these requirements may require the owner to contribute funding directly for these items or to make concessions for what is included in the project.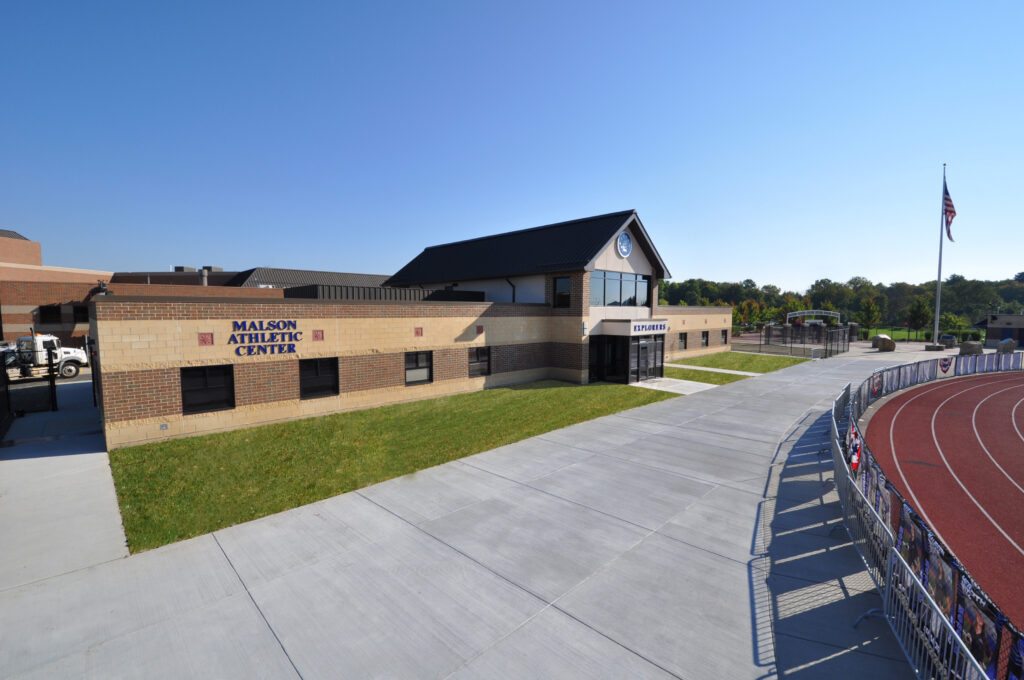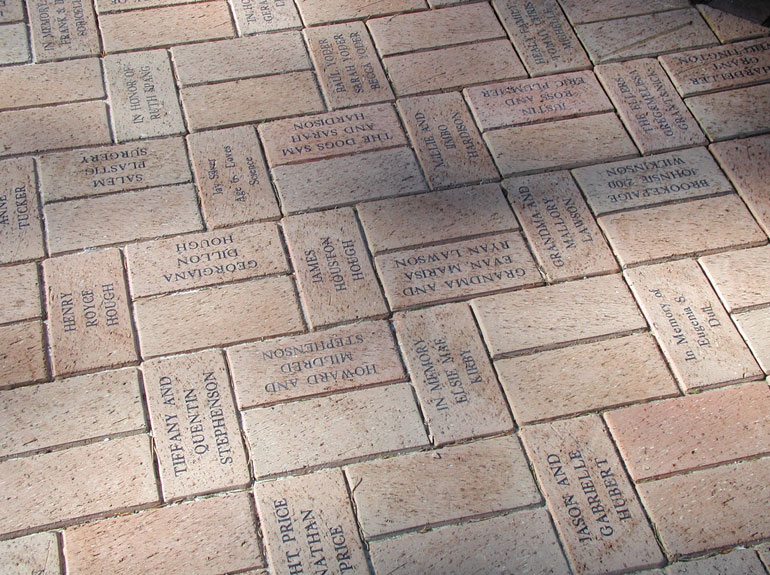 Site – Selection and Challenges
While funding may be in place, a site must be chosen for the athletic facility. This is something that should be planned as far in advance as possible. Does your district have available additional buildable land, or do you need to demolish and rebuild in the same location? This is common for land-locked or urban sites that require careful planning and scheduling. Often, these athletic facility projects must be completed quickly, and construction timing must be planned for minimal downtime, usually during summer breaks. Likewise, early planning allows for alignment of workforce for specialized construction which may already be working on multiple projects for other districts.
Phased Development – Project Size and Scope
Because funding sources and amounts can be somewhat unpredictable, many projects are unveiled through multiple phases. The extent of these phases depends on the size and complexity of the overall project. For a new stadium, the field and bleachers would be of primary importance. A field house with concessions and support space could then be introduced in future development. For multi-sport projects, it is essential to take a strategic look at what order the various pieces need to be constructed. Often, this will be driven by revenue generation. A new stadium will typically support multiple sports and year-round use (football, soccer, track and field, lacrosse, etc.). Baseball and softball facilities on the other hand are generally used for only two or three months and very often tickets are not required for these sports. Prioritizing a project with multiple phases allows the district to get everything on their wish list with ample time to secure funding and skilled workforce.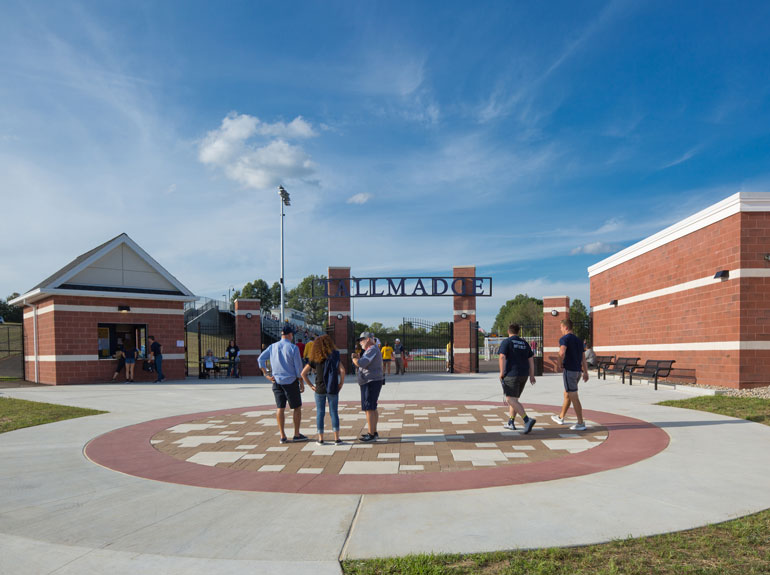 Community Planning and Zoning Boards
When projects are completed over multiple phases the individual pieces that were first anticipated can sometimes change. These modifications are generally minor but, in some cases, can be more dramatic. Planning and zoning boards will typically approve the entire project, which includes immediate development and portions of the plan that may not be put into place for many years. Most boards will require re-engagement and review before the start of each phase. Changes to the original 'masterplan' can sometimes be hard to sell, particularly if approval was difficult to gain the first time around. If changes to later phases of a multi-phase project are anticipated, it is best to present those ideas to the local municipality as early as possible rather than drop it in their lap at submission time. Again, planning and a proactive approach are the keys to success.
User Groups
There are often a variety of users to consider when designing a K-12 athletic facility. These can include district administrators, coaches, student athletes, corporate and private donors, and community members. For most commercial projects there is a single person or small group that represents the interests of the building users. Due to the breadth and scope of most athletic facility projects, a single point of contact from the owner's side is often hard to find. Clear communication between all parties is critical and the designer should take charge of managing the information. Concise documentation in the form of meeting minutes that record direction from and responses to each group is one way to make sure everyone is on the same page.
Construction Materials – Athletic Surfaces and Buildings
It is very rare to see a new K-12 athletic field installed with natural grass. Artificial turf is by far the material of choice nowadays when it comes to athletic surfaces, not only for durability, but also ease of maintenance. With a growing number of projects utilizing this type of playing surface, there are ever changing options for the actual turf and infill material. Each grass type, and to some degree infill material, is specific to the intended sport that will be played. Most new facilities will utilize fields for multiple sports. With this being the case, manufacturers are providing options for 'hybrid' systems that provide optimal surfaces for the anticipated sports to be played on them. Determining which sports will be utilizing the field is the first step in identifying the optimal playing surface material.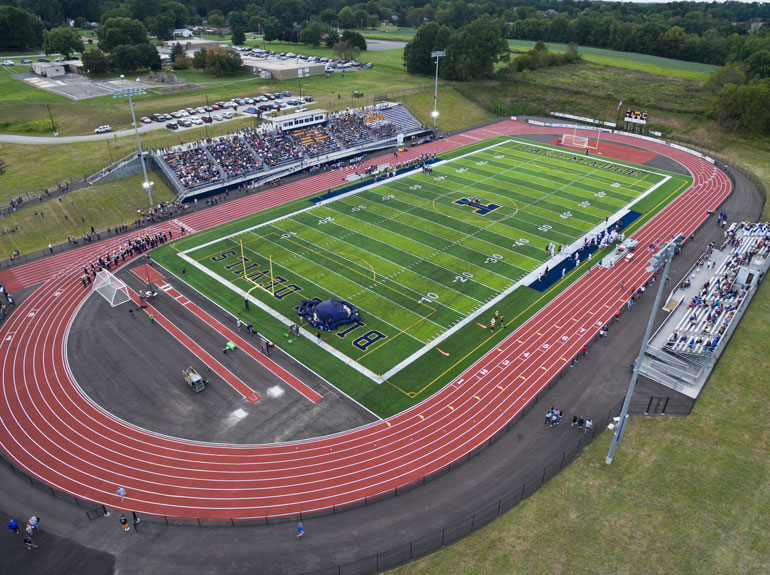 Physical buildings that generally accompany a K-12 athletic facility project are not typically used year-round. Regardless of this limited use, these structures are required to meet energy code guidelines. In the past, a building viewed as more 'utilitarian,' such as a field house or concession structure, would have been constructed simply using single wythe masonry with grouted cores.  Modern energy codes that require continuous insulation makes this construction method problematic, requiring insulation to be located on the interior face of the building. Recent developments in continuously insulated CMU have made single wythe masonry a viable wall construction option. A fully code compliant, insulated wall can be constructed with the benefits of masonry surfaces on the interior and exterior.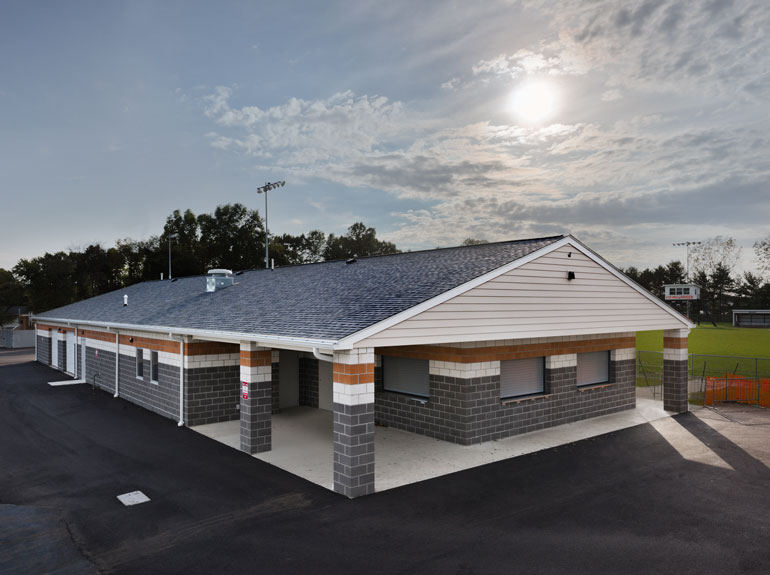 Regardless of project size or scope, consulting an experienced design professional should always be your first step when contemplating an athletic facility project. From funding and site selection to phasing and materials, an experienced designer can help to ensure your next athletic project is a success.
Take a look at a few of our recent athletics projects here!