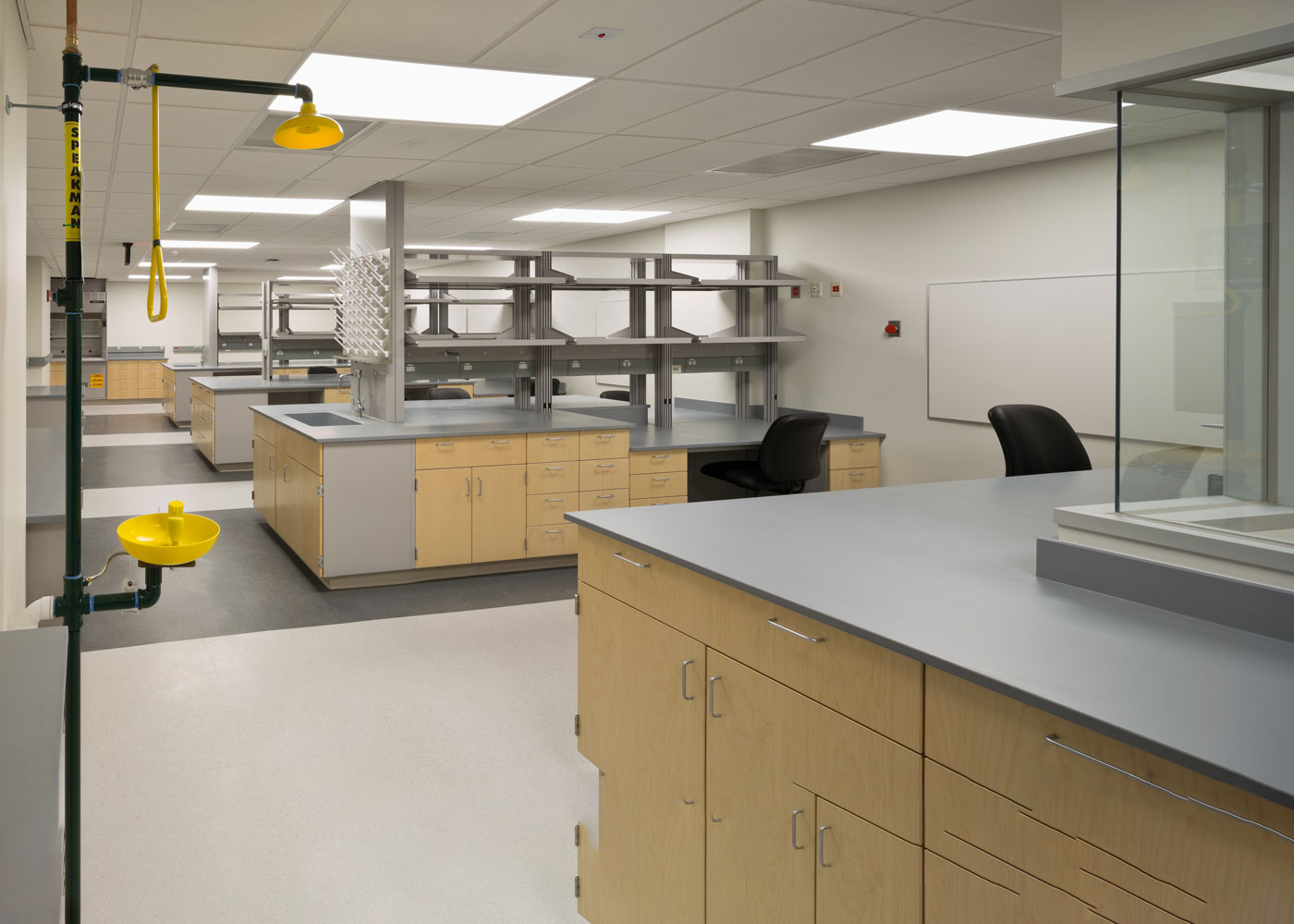 Case Western Reserve University
Laboratory Design Specialists | Hasenstab Architects
Hasenstab Architects' genomics laboratory design at Case Western Reserve University's School of Medicine followed the Good Clinical Laboratory Practice (GCLP) workflows and met all Clinical Laboratory Improvement Amendments (CLIA) standards. The 1,600-square-foot lab, which is located in the HG Wood Building, provides a wide range of genomics services, including genome sequencing, RNA-Seq, genotyping, and epigenetics.
In addition to an open lab area with bench space and built-in workstations, the project also includes faculty offices, staff work areas and a Pre-PCR workroom. The renovation was completed in two phases: First, the area was demolished to expose potential unknowns that may have affected the laboratory design. Then, the design and construction were completed.
Effective laboratory design enables occupants to create flexible workspaces that are structured, equipped, operated, and maintained for optimal performance. Hasenstab understands the unique specs required for such facilities and can help you to find and create lab and workspace solutions that increase efficiency and productivity.
Our team of laboratory design experts understands that agility is quickly becoming a more influential factor in decision-making. For that reason, new labs require adaptability in their design. At a time of significant change in the Life Sciences and Healthcare sectors, Hasenstab recognizes the importance of laboratory design that includes configurable and agile spaces, enabling your team to remain responsive to research methods and scientific practices that change over time.
One of our keys to success is our upfront planning process. Like we did for Case Western's genomics laboratory design, we involved stakeholders early in the design process. Making sure to involve all comprehensive stakeholder groups at project kickoff and in early design decisions can help avoid future problems impacting design, construction, and long-term lab use.
The planning phase ensured that specifications were included for broader concerns such as chemical storage, HVAC and mechanical systems, and equipment, down to detailed requirements like door widths, turning clearances, and equipment paths.
For more information on our laboratory design specialty, contact Hasenstab Architects. Our team has extensive experience in the educational and healthcare field which contributes a comprehensive perspective to lab design. Visit Our Work portfolio to see other laboratory design projects that Hasenstab Architects completed.
Project Details
Client
Case Western Reserve University
Category
Keywords
Key Team Members
Ben Rantilla
Amber Duco