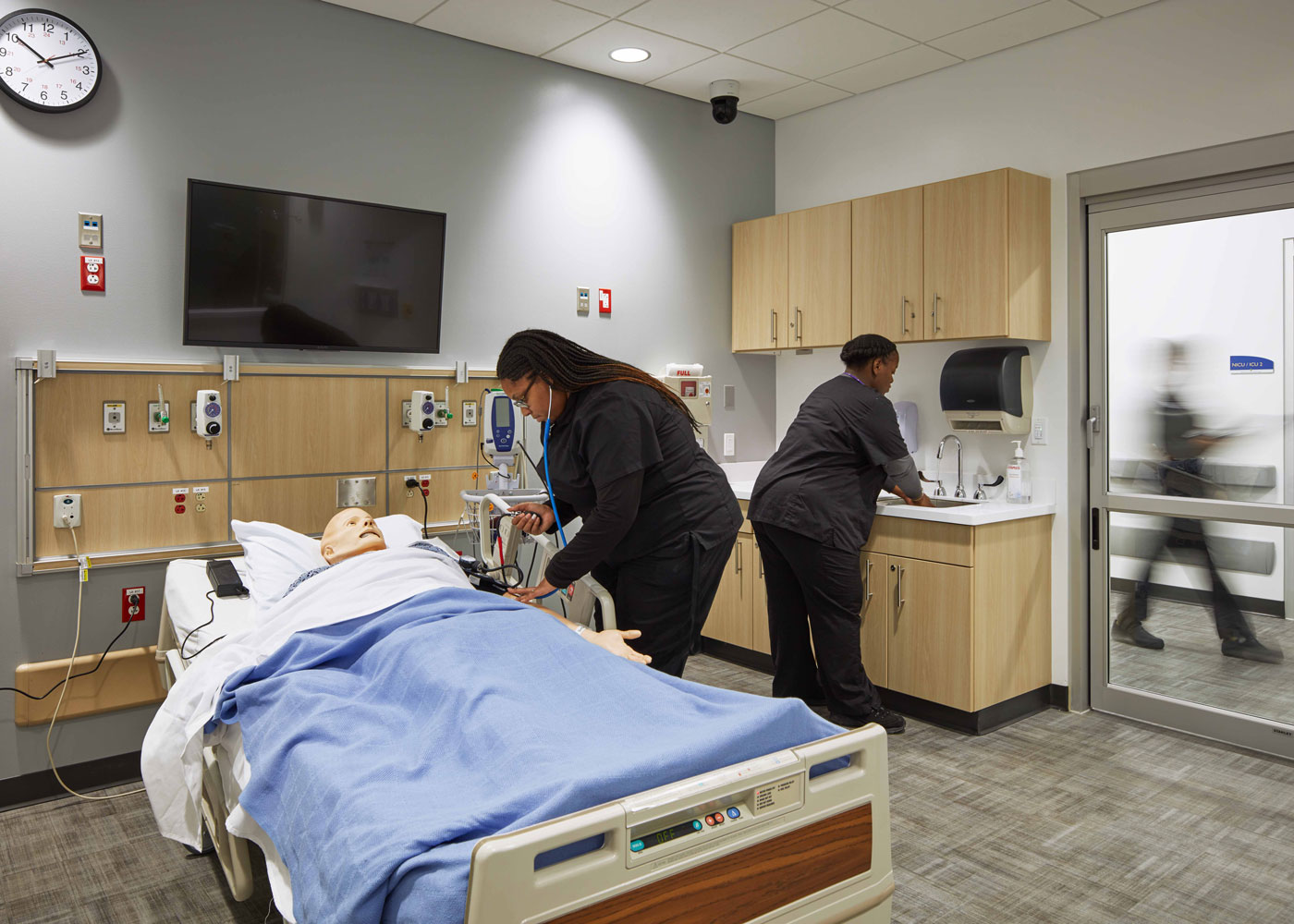 Muskegon Community College
Nursing Simulation Lab
Nursing Simulation Lab Design
Hasenstab provided nursing simulation lab design services for a 3,000-square-foot simulation suite inside Muskegon Community College's new, 52,400-square-foot Health and Wellness Center.
The four-room, high-fidelity nursing simulation lab provides a realistic training and testing environment for nursing, medical assistant and respiratory therapy students. It also provides nursing and medical assistant students with opportunities for required clinical hours. The entire project was completed about four months ahead of schedule.
"I just can't even get over this — this is just spectacular," said college President Dale Nesbary at the center's grand opening. "It's very gratifying to walk through this space and actually see it."
The state-of-the-art education space was designed to provide the owner with space to grow both the nursing and respiratory therapy programs. The nursing simulation lab design also contains a small debriefing room with seating for up to 14 people, with various support spaces. The center is operated by the MCC Allied Health Department.
Hasenstab Architects' services for this project also included the development of a request for proposal and facilitation of an interview and selection process of an owner-provided "simulation audio/visual capture system." This was all developed during the design process, which provided the owner with coordinated construction documents.
When designing a nursing simulation lab, it's critical to keep several key elements in mind:
Infection control: water, sinks, gels, and other infection control items are critical since students will be handling all sorts of fluids. These items must be considered when designing the simulation lab.
Manikins: it might seem obvious that manikins are needed, but most modern manikins require extensive electronics and compressors. These require room to be housed, but the more they are "hidden," the more streamlined the nursing simulation lab design will be.
Gases: if respiratory or anesthesiology students are part of the training area, something more than standard HVAC may be required. Portable tanks or specialized oxygen supplies may increase the complexity of the simulation lab design.
Storage: lots of storage will be necessary for a modern facility.
Faculty: don't forget about the faculty. While the design should focus on the needs of students, the faculty should have an extensive say in what goes into the nursing simulation lab design.
If you're feeling a bit "ill" considering all the factors involved in nursing simulation lab design, contact Hasenstab Architects. Our team has extensive experience in the healthcare field and specifically, laboratory simulation.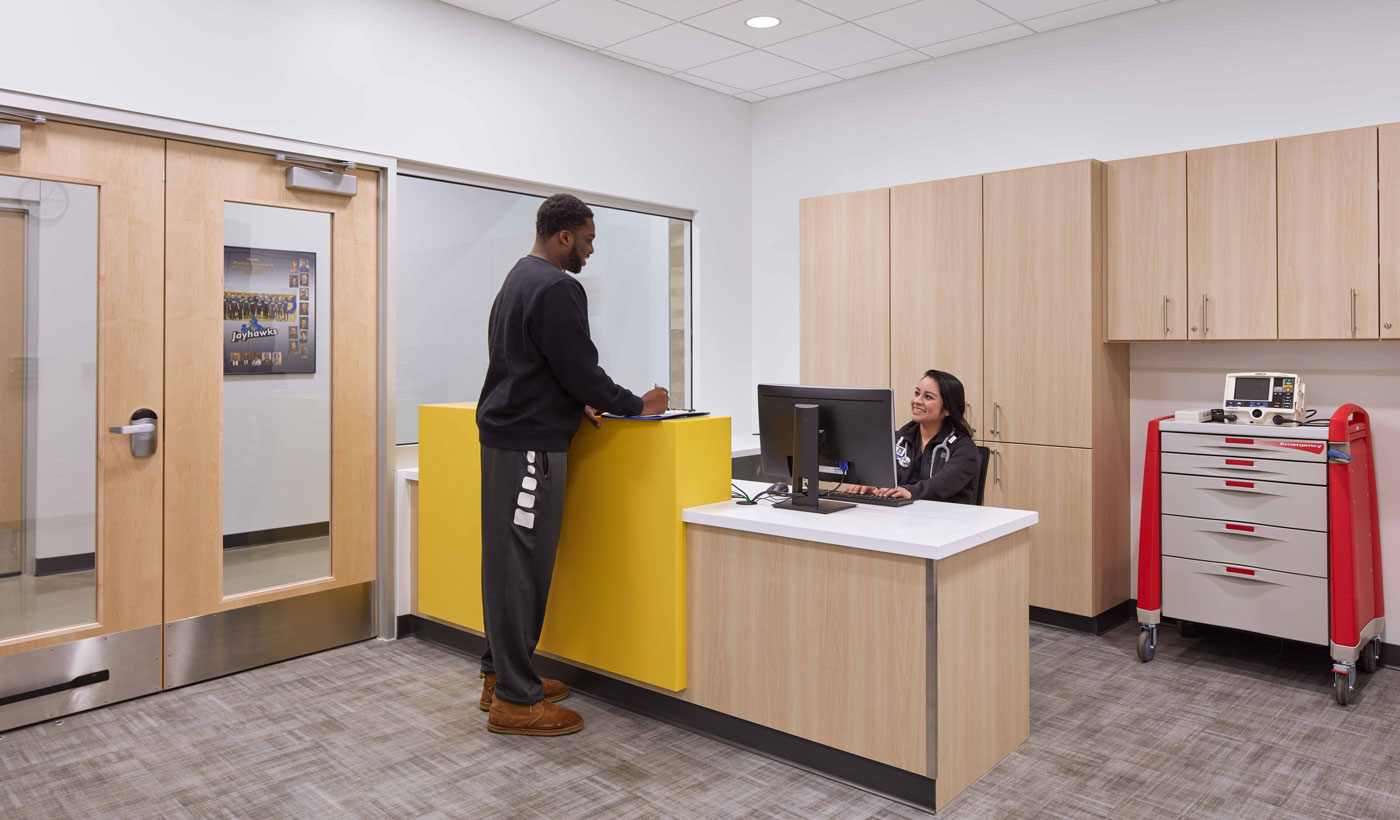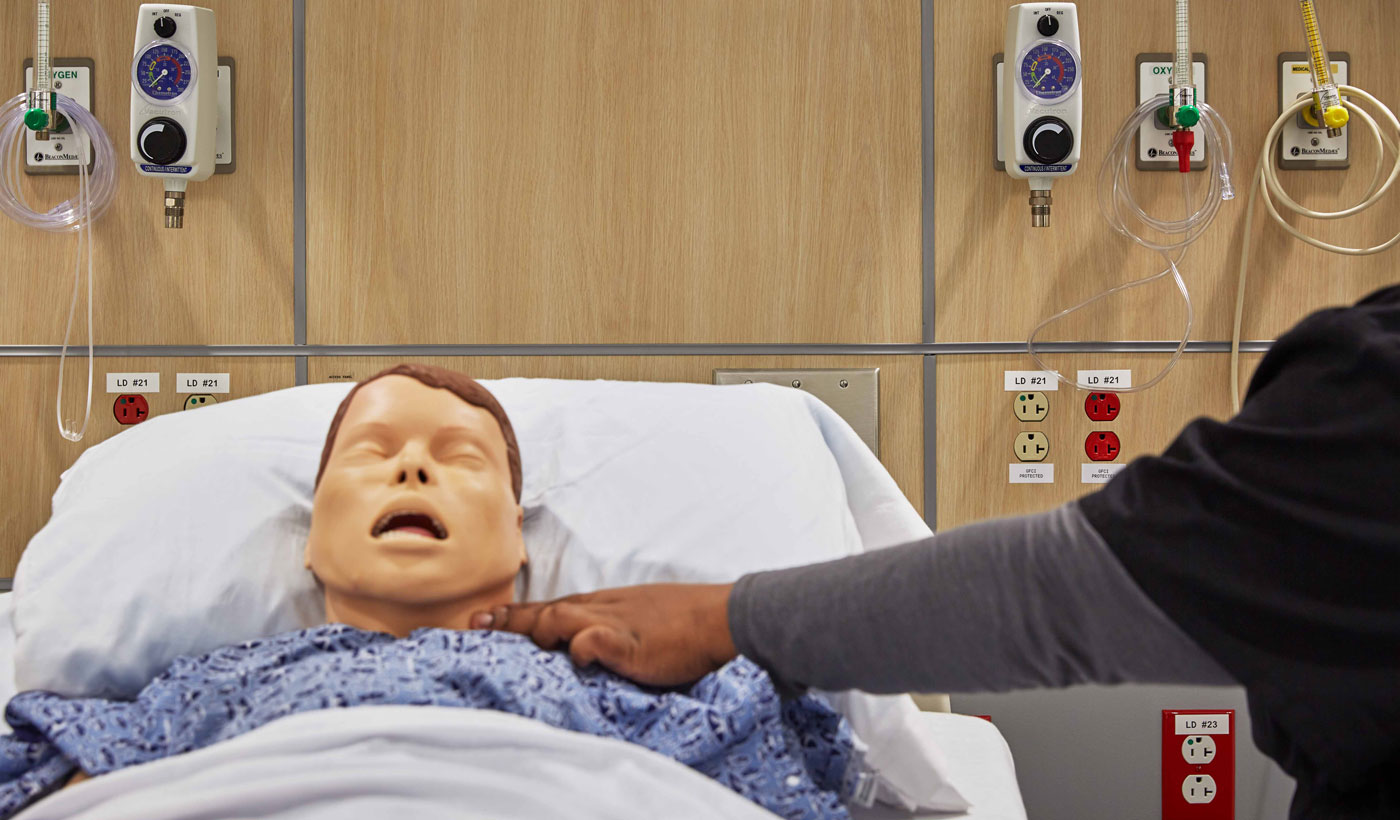 Project Details
Client
Muskegon Community College
Category
Size
3,000 Square Feet (Simulation Suite)
Key Team Members
Scott Radcliff
Chitra Matthai