Categories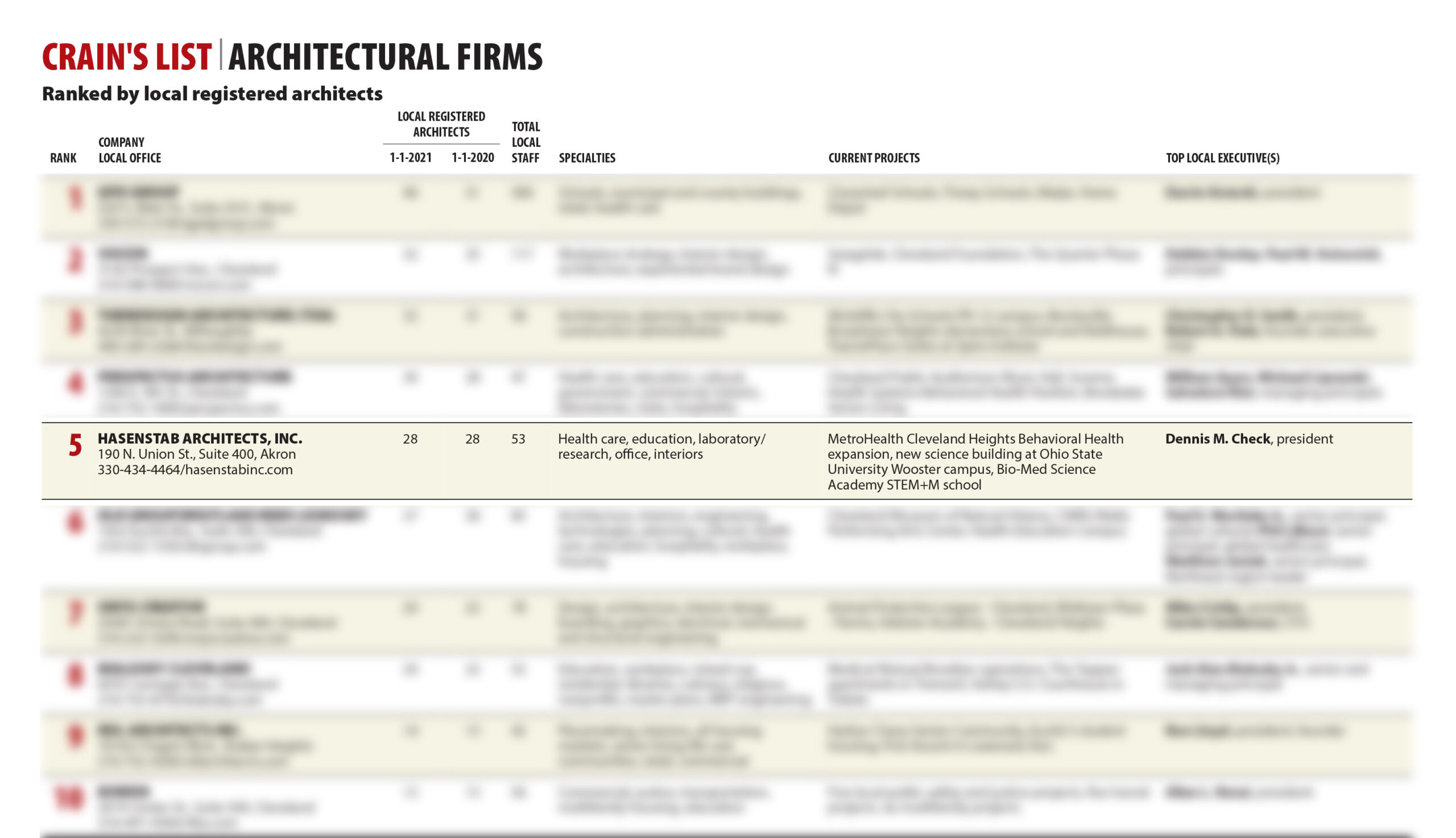 Hasenstab Ranks #5 Among Top Architectural Firms
AKRON, OH (March 24, 2021) — Hasenstab Architects, one of the region's top healthcare architecture firms, was recently ranked #5 among the largest architectural firms in Northeast Ohio according to Crain's Cleveland Business. This list is based on number of registered architects – Hasenstab Architects currently has 29 registered architects with a total staff of 54.
President Dennis Check commented, "Our team is excited to be recognized among the top architectural firms in the area. It's a testament to the hard work and long list of successes our team has achieved for our clients."
Hasenstab Architects has several industries in which it specializes, a primary one of which is healthcare. "While many know us as one of the top healthcare architecture firms in the area, we also have extensive experience in the education and corporate spaces. We've designed museums and athletic facilities and have even done work for zoos," stated Check.
Since its inception in 1982, the focus of the firm has been designing facilities and spaces that help clients succeed. From large hospital additions to new middle schools or corporate office renovations, the goal is to create environments that are efficient, healthy and inspiring. Hasenstab Architects quickly gained its reputation as a top healthcare architecture firm after completing several hospital additions, laboratories and behavioral health centers. Recent healthcare projects include Joint Replacement Center of Excellence, New Patient Tower and the Stow-Kent Medical Center, all completed for Summa Health. The firm has designed one or more projects for all of the top medical systems in the Northeast Ohio I-77 corridor (Cleveland-Akron-Canton).
Hasenstab Architects' recent ranking in the top 5 largest architectural firms comes on the heels of seven consecutive years of being ranked as a Top Workplace in Northeast Ohio. Vice President Bob Medziuch noted, "We believe our secret sauce is how we interface with the construction professionals entrusted to our client projects. That interaction can only be as good as it is because of our team members. It's that interaction that produces creative, yet sensible designs. Our team is made up of a talented group of professionals from interns to experienced project managers, interior designers and engineers, construction advisors, and support staff. We are committed to fostering a collaborative environment and making each project a success."
For more information on some of the firm's recently completed projects, visit the project portfolio section of the website which is organized by industry type.