Categories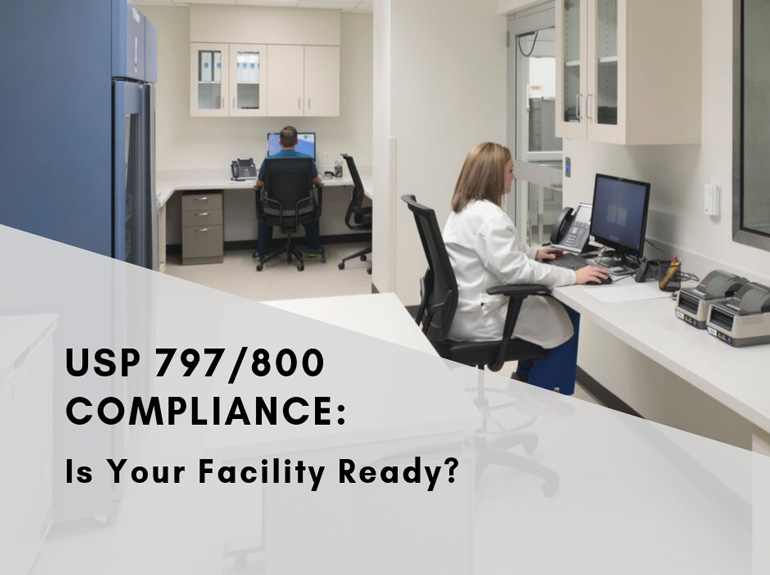 The USP 797 & 800 Compliance Deadline is Looming: Is Your Facility Ready?
By Mark Diekmann, AIA, Chris Betts, and Nick Davis, AIA, LEED AP BD+C
Recent changes in the USP (United States Pharmacopeia) 797 and 800 Compounding Standards have critical design implications that will significantly affect your pharmacy. The updated standards call for more stringent requirements related to sterile compounding in healthcare settings. The compliance deadline for these new standards is December 1, 2019.
To make matters even more challenging, many healthcare facilities are faced with compliance for USP 797, which deals with sterile compounding standards, as well as USP 800, which focuses on hazardous compounding, within the same pharmacy.
Below we summarize five significant design elements you should consider when navigating your pharmacy upgrade or renovation to meet the new standards.
PHYSICAL SPACE:
More space is almost always required for pharmacy renovations. Current guidelines require separated cleanrooms for hazardous and non-hazardous compounding. In addition, an ISO Class ante room is required for garbing and handwashing. To ensure appropriate functionality within the cleanroom suite, each of these spaces require additional square footage than needed in previous designs. The first challenge is to determine if there is adequate available space next to or near the existing pharmacy. In today's healthcare environment, space is always at a premium. Pharmacy upgrades may require one or more preceding projects to make necessary space available.
PLANNING:
Older pharmacies have an opportunity to improve adjacencies, workflow, storage needs, and visibility. In addition to compounding spaces, the pharmacy workroom layout becomes critical. This includes task-based workstations for pharmacist verification, dosing, pre-pack, automated dispensing, receiving and storage. Locations of pass-throughs connecting the workroom to cleanrooms should be considered in the layout as well.
SYSTEMS:
Can your facility's existing mechanical, electrical, and technology systems support a pharmacy upgrade? Existing systems and conditions need to be investigated and documented to allow for comprehensive engineering design of the pharmacy spaces. Some existing building systems may need to be supplemented or even replaced, even though they are not near the pharmacy. Environmental control systems and monitoring/logging cleanroom suite conditions are critical to compliance. Once construction is complete, balancing of these spaces is vital to the successful commissioning of the clean suite to achieve the required air changes, pressure relationships, and air quality. This requires a multi-disciplinary team, which includes not only the balancer and commissioning agency, but also the design team.
SECURITY:
Maintaining and improving pharmacy security is crucial. An upgrade creates an opportunity to provide enhanced security throughout your pharmacy. Systems can include not only pharmacy perimeter security, but also card access systems, motion sensors and camera monitoring. Existing in-place security systems need to be evaluated for expansion or replacement.
PHASING:
Upgrades that need to occur within an existing, active pharmacy will require thoughtful construction phasing to ensure the pharmacy can remain in compliant operation throughout all construction activities. This requires constant communication between the owner, pharmacy leaders, contractors, and architect/engineering team. A multi-phased effort may require a compromise to an ideal pharmacy layout in order to allow critical spaces to be constructed first. These spaces, once completed and placed into service, then make the remaining spaces available for renovation. For extreme circumstances, implementing the use of a leased pharmacy cleanroom trailer or unit provides an alternative solution to maintain pharmacy operations while construction takes place in the existing pharmacy spaces. This option is inconvenient and costly, but it's sometimes necessary given phasing and logistics.
Final Thoughts
The considerations mentioned in this post are just the tip of the iceberg when it comes to critical design elements that will affect your USP compliant pharmacy renovation or upgrade. This process can be very challenging, but by securing a highly experienced design professional early on and engaging in constant dialog with the project team, you will be well on your way to a successfully upgraded pharmacy that meets current standards.