Hasenstab Architects — A Sustainable Architecture Firm
Hasenstab Architects incorporates sustainable architecture design practices into all of our projects, regardless of whether that project is seeking LEED® certification. Sustainable architecture uses design strategies that reduce the negative environmental impact from a built environment. Sounds simple enough, but without experience, you should not assume your architecture firm provides this top-tier option.
While the current trend of sustainability has permeated most of our lives, there are still a minority of projects that seek to be qualified as LEED. Regardless, improvements in architecture design and building methods have benefited from the advancements that have been introduced as a result of this societal push to be more ecologically conscientious. And with adoption, the price of sustainable architecture design has decreased significantly, such that many of the improvements are cost effective over the long run.
We believe sustainable architecture design begins with education. By educating our clients about sustainable materials, energy conservation systems and ecological implications surrounding the built environment, we are able to show that along with sustainable architecture comes long-term savings. As an added bonus, everyone involved with the project can have a shared sense of pride about the positive impact the new footprint will have on future generations.
With many LEED accredited professionals on staff, we are committed to incorporating environmentally responsible materials and systems into building designs and construction projects. Our interior design staff has also integrated many sustainable architecture design finishes into our project specifications. If you're interested in learning more about how Hasenstab Architects includes sustainable architecture design in its client projects, please email us or contact us online.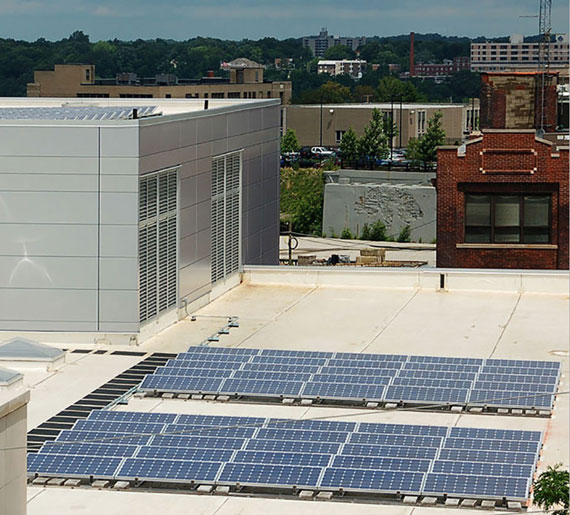 Rooftop Solar Panels
University of Akron National Polymer Innovation Center